Project
Summary
A spectacular masterpiece by the R&R Architects in Thrissur. This ongoing residential home project is a result of absolute luxury and modern architectural design. The most striking advantage of this luxurious home is the construction marvel itself. It is visually appealing in both exterior and the interiors, more specifically the interiors are really a visual spectacle. Located at a serene suburban area, the two storey luxury living space in under construction by R&R construction company in thrissur with the recommended tools and as per the industrial norms. A striking future modernistic design with pale green appealing colour contrast. The outer boundary wall evenly blends with the home with white pattern. It consists of an open space car porch with a ceiling reinforced with steel frames.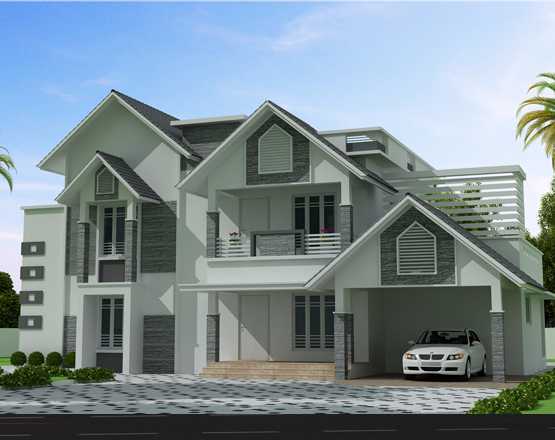 Quick
Facts
A lavish masterpiece being constructed from traditional architectural styles by the R&R Architects in Thrissur. This luxurious two storey residential construction gives more emphasis on modern architecture and modularity. On the exterior, the structure is being built using reinforced cement concrete in the ratio 1:2:4. Filter M sand and OPC grade 53 cement is used for the construction. R&R Architects in Thrissur has an innate flair for color, spatial arrangements, architecture and texture. Our expert Architects in Thrissur have a deep knowledge on the complexity of design, the structural integrity of buildings, building codes, ergonomics, spatial concepts, ethics, psychology, computer-aided drawing (CAD) and much more.
Specifications
DOORS AND WINDOWS
Front door and all Windows and doors frame and shutters are all made of Teak wood. We only use the best quality teakwood for our work. For all the indoor doors, we use ready-made Taiwan doors. PVC moulded doors are used for bathrooms. We use SS handrails for the staircase to provide the supporting rail. Best door locks and chosen considering the interest of the client and the interior decor.
PAINTING
The newly plastered surface is whitewash to give a smooth finish. Every wall, both inside and outside wall are given two coat of putty. Emulsion for exterior wall and interior wall. All wood surface is given proper pest treatment to protect it from pest. Melamine polishing for front door. Enamel paint for all wood and metal surfaces.
FLOORING
Joint free and stain free Vitrified glazed tiles of size 80x80cm in sit out and all other rooms. The tiles are selected as per request of clients. Ceramic tiles of size 30x30cm for bathroom floors anti skid. 30×20 glazed tiles for bathroom walls upto to210cm height. Even Porches are tiled.
KITCHEN & WORK AREA
Modular kitchen cabinets & Work area cabinets.Black Granite top kitchen counter. Stainless steel sink and glazed tiles 2 feet above the working platform. Provision for water purifier, mixer grinder and oven in kitchen. Exhaust fan is fitted in kitchen to remove the smell.